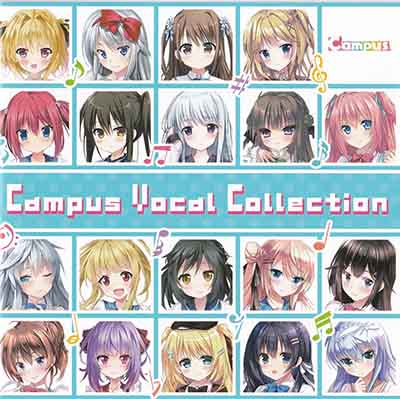 Campus Vocal Collection / ゲーム・ミュージック
M01 – Haru Uso -Passing Memories-
Vocal: Ayumi. 
M02 – Tenmon Dokei no Aria
Vocal: Haruka Shimotsuki
M03 – Natsu Uso -Ahead of the reminiscence-
Vocal: AiRI
M04 – Tsumi Koi x 2/3
Vocal: Sayaka Sasaki
M05 – Triangle Love -Apricot Fizz-
Vocal: Kicco
M06 – Aki Uso -The only neat thing to do-
Vocal: Miyuki Hashimoto
M07 – Deep Love Diary -Koibito Nikki-
Vocal: Hiromi Sato
M08 – Fuun to Kouun to Koi Uranai no Tarot
Vocal: Chiaki Hashimoto
M09 – Hatsukoi*Syndrome
Vocal: Ceui
M10 – Fuyu Uso -Snow World End-
Composition/Vocal: Yui Sakakibara
M11 – Boukyaku Shitsuji to Koi Suru Ojou-sama no Memoir
Vocal: Miyuki Hashimoto
M12 – Furu Uso -Complete Four Seasons-
Vocal: Sayaka Sasaki
M13 – Kimi to Hajimeru Dasanteki na Love Come
Vocal: AiRI
M14 – Sono Hana ga Saitara, Mata Boku wa Kimi ni Deau
Vocal: Ceui
M15 – Love tone "se piace"
Vocal: 猫田かな
Tracklist
01.A new day-to-day will come.
02.星々の刻をこの掌に
03.Liar for you xxx
04.Small sin to the love
05.青い空を風とともに
06.crazy blood to you
07.RING ON BOUQUET
08.ローズピンク タロット
09.First Love Syndrome
10.Snow World End
11.key of destiny
12.True Memories Symphony
13.Melt Together
14.君に花
15.Play ON!!